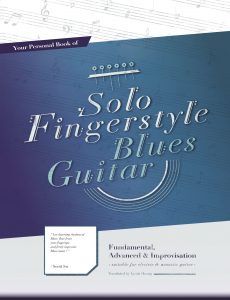 Facebook PageDemo Songs VideoDownload Demo Mp3
◎ DESCRIPTION
★ Great volume of 12-measure exercises, 75 demo songs, arrangements, and MP3 downloads,…more in-depth experiences in the beauty of Blues music.
★ Various types of theme-oriented Blues training on melody, harmony, rhythms and fingerstyle,…more diverse and rich Blues playing.
★ Step-by-step hands-on impromptu playing methods make your freestyle Blues improvisation dream comes true!
This book is quite suitable for friends who are serious about learning Blues guitar, regardless of fingerstyle or electric guitar Blues solo, you all can gain quite much from this book.
For beginner guitar-learning friends who are curious and interested in Blues music, you may be able to experience and play it through the contents of Chapter ONE. If you have more and deeper interests, you may also read the later chapters for playing and practices. This book is definitely worthwhile for your collection.
This book is comprised of three big chapters. The first chapter introduces basic elements of Blues music, specifically on chord, scale, rhythm, expressions and etc to do simple practices and trials. And integrated melodic demo practices are designed in a later section, allowing readers to play real Blues through the previous elements. Two-voice fingerstyle Blues practices are available in the end.
Chapter TWO A separate enhancement on parts of the last chapter, including different variations in rhythmic styles, fret positions of chord and changes in applications, integrated training on melodic lines of fingerstyle playing and the above-mentioned variation practices. The goal is that after finishing reading this chapter, you are able to play fingerstyle Blues guitar richly and freely move your fingers around different fret positions at ease.
Chapter THREE then is on advanced thinkings and changeable possibilities in Blues music, including uses of different scale and mixes, changes and the differences of major and minor keys, and most importantly, the core target of Blues — improvisation performance. In addition to melodic improvisations, we are more looking forward to achieving fingerstyle Blues improvisation performances.
◎ TABLE OF CONTENT
Chapter ONE : Learning of Blues Basics
– Blues Music
– Blues Chords
– Form of Blues Music
– Rhythm of Blues
– Most Often Used Keys in Blues Music for Fingerstyle Guitar
– Blues Notes
– Blues Expressions
– Etudes
– Fingerstyle Playing Practice
Chapter TWO : Enriching Your Blues Playing
– Various Styles of Blues Rhythm
– Applications of Open String Notes
– Applications of Inversion Chords
– Accompaniment and Riffs
– Integrate Performance Etudes
Chapter THREE : Advanced Blues Thinking & Improvisation
– Turnaround
– Blues in Minor keys
– Blues in Major keys
– Flexible Variations in Blues Melody
– Blues Improvisations
– Practical Applications & Improvisations of Blues Fingerstyle Performance
– Unaccompanied Blues Improvisation Playing
Conclusions