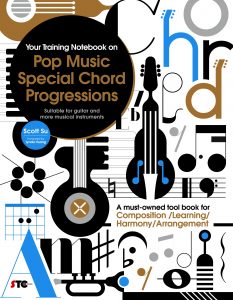 ◎ DESCRIPTION
★ Carefully Selected Songs, Understand The Uniqueness 
Well-chosen 7 classic domestic and international pop music songs with unique chord progressions
★ Viewing From Pop Music Aspects, Easy To Learn And Use 
Complete sum-ups of harmony techniques in pop music applications and convenient to look-up upon compositions and arrangements.
★ Demonstrate Operation Flows, Clear At A Glance 
Step by step demonstrations from easy to complicated chord rearrangements, hands-on learning on harmony techniques.
This book uses classic pop songs domestically and internationally with more characteristics in chord progressions as references, and show you how the harmony techniques were well-used in these songs, and make them become unique.
Readers who love music performing, song arranging, as well as composing, are able to expand depths and longitudes in music on themselves through the understanding of chord progressions.
In the last chapter of this book also teaches you how these harmony techniques can be used in songs step by step, and make you can apply them in your songs or rearrangements easily.
◎ TABLE OF CONTENT
Introduction
Chapter of Direct Trainings
〉 Example I "Beautiful" – Christina Aguilera
—- Form Progression
—- Chord Progression
—- Analysis
〉 Example II "Somewhere Over the Rainbow" – Connie Talbot
—- Form Progression
—- Chord Progression
—- Analysis
〉 Example III "She" – Charles Aznavour
—- Form Progression
—- Chord Progression
—- Analysis
〉 Example IV "I Just Can't Stop Loving You" – Michael Jackson
—- Form Progression
—- Chord Progression
—- Analysis
〉 Example V "Say Yes" – CHAGE & ASKA
—- Form Progression
—- Chord Progression
—- Analysis
〉 Example VI "Evergreen" – Barbara Streisand
—- Form Progression
—- Chord Progression
—- Analysis
〉 Example VII "Everything" – Misia
—- Form Progression
—- Chord Progression
—- Analysis
Chapter of Analysis & Integration
Section 1. Diatonic Triad
Section 2. Inversion Chord
Section 3. Mixed Chord
Section 4. Modal Interchange
Section 5. Sustained Note
Section 6. 2-5-1 Progression
Section 7. Diminished Seventh Chord
Section 8. Tritone Substitution
Section 9. Extended & Altered Dominant Chord
Section 10. Modulation
—- Methods of Key Modulation
Section 11. Alteration of Chromatic Approach
—- 1. Within the Same Chord
—- 2. Different Chord Progression
Section 12. Harmony Disposition
Chapter of Applications and Hands-on
〉 Example I "Happy Time"
—- Original chord progression
—- Chord rearrangement
〉 Example II "Jingle Bell"
—- Original chord progression
—- Chord rearrangement
Epilogue